We spoke with Swiss legal nonprofit AsyLex about how they use legal technology to help asylum seekers get crucial legal guidance digitally
AsyLex Legal Advisory is a nonprofit organization based in Switzerland. They offer online legal advice on Swiss asylum law and support asylum seekers through every step of the asylum procedure. Their vision is broad but simple — and incredibly important: they aim to ensure that every person seeking asylum in Switzerland understands the basics of the asylum procedure, knows the criteria for granting asylum, and has access to free legal advice at all times.
As a nonprofit organization, AsyLex is taking advantage of BRYTER's tech for good program to gain free access to the platform, which helps legal experts easily automate complex workflows themselves — without coding or technical expertise.
We spoke to AsyLex about how they're using BRYTER to automate processes so they can maximize their impact and respond quickly when people need their support most.
Building an emergency chatbot in 4 days
Crisis often breeds innovation, and AsyLex was left with no choice but to innovate when Kabul fell on August 15, 2021. In the aftermath of the Taliban takeover of the Afghan government, many people from Afghanistan needed to flee the country due to the fear and threat of persecution.
The information available to those who needed to flee was chaotic and often confusing. There was no single source of truth. AsyLex needed a way to provide reliable, verified information from the Western and Middle Eastern governments that were willing to help and had accessible evacuation options in place. The organization gathered the relevant information, verified it, and published it as an interactive chatbot in August of 2021.
There was no time to waste and Asylex was able to fully build and publish their chatbot in a matter of days using BRYTER. The Admin Team, §am, and Translation Team all worked together on this chatbot and their collective became aptly known as the "Emergency Response Afghanistan Team."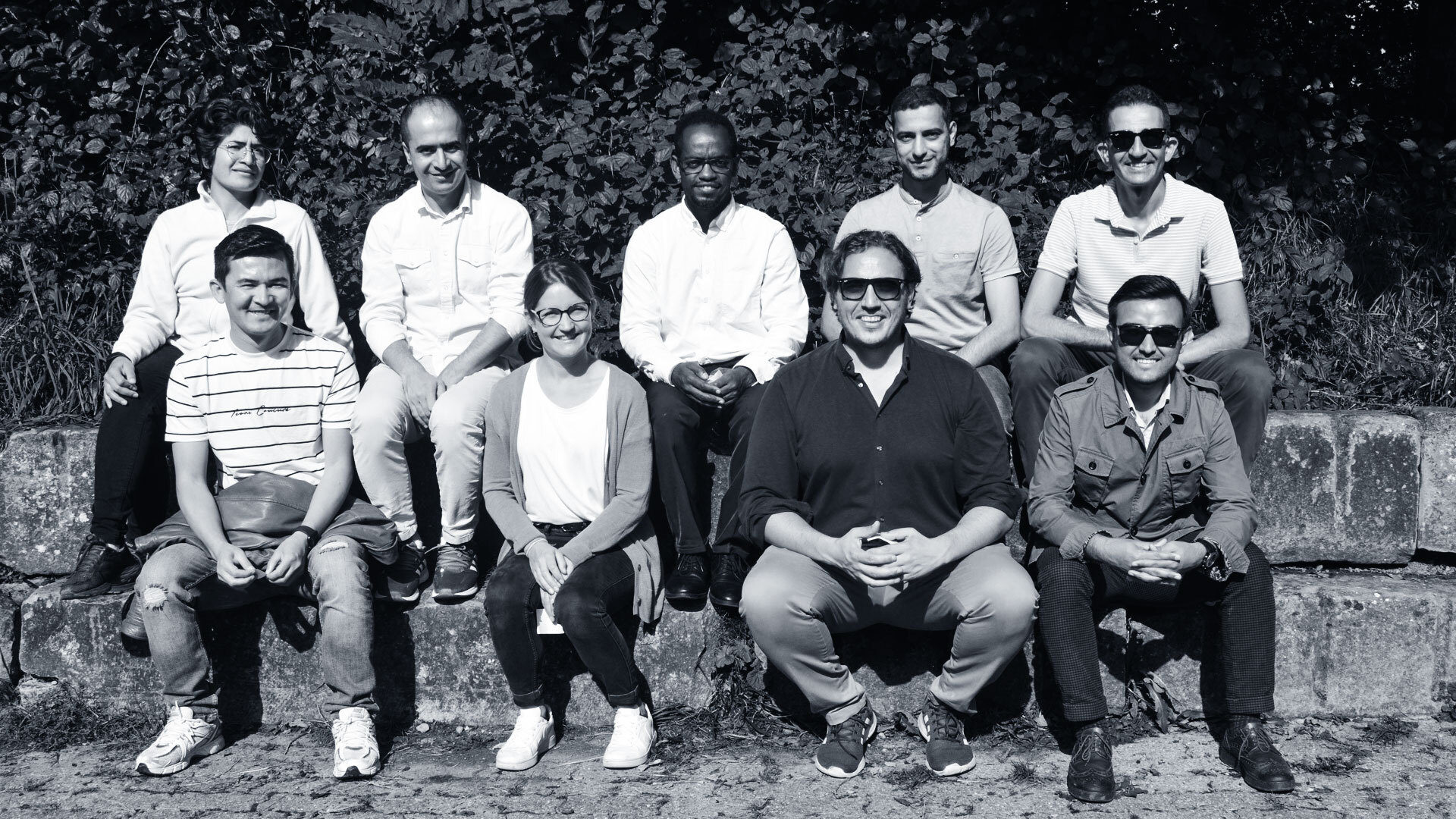 This Afghanistan Evacuation Options chatbot provides vital, verified, and tailored information to people who have a chance of being evacuated. Bernhard Weber, a Legal Advisor and the Legal Tech Team Leader at AsyLex, told us, "Since August 2021, almost 10,000 people have accessed the tool to receive evacuation information."
Additionally, many people have used the tool to reach out to AsyLex to seek more tailored assistance. In many cases, AsyLex was able to forward the information to the relevant authorities.
Providing fast, tailored assistance to people at risk
One of their key success stories is the evacuation to Switzerland of 7 people who were in immediate danger. They were also able to keep track of more than 800 additional people at risk by the end of 2021.
Joëlle Spahni, Head Operations at AsyLex added, "By the end of 2021, we processed the information of 800 people whose lives were at risk, via BRYTER. We were then able to use that information for advocacy purposes. We sent it to the Federal Council and the State Secretary for Migration to ask for their immediate evacuation, as these people are specifically vulnerable and have a connection to Switzerland."
The work doesn't stop there
In addition to creating the Afghanistan Evacuation Options chatbot, AsyLex also created a tool that automatically generates requests for a humanitarian visa for people who were able to flee to another country or have connections to Switzerland. People in Switzerland with family in Afghanistan can also use the tool to pre-screen their humanitarian visa applications.
This tool guides them step-by-step through the visa application process and automatically drafts an email to request an interview at the embassy, which significantly streamlines the process and makes it far less confusing.
AsyLex is also doing broader advocacy work by applying pressure on federal institutions. One example of this work is their open letter to the Swiss Federal Council, urging Switzerland to grant at least temporary admission to Afghans who are in the asylum process or have already been expelled. They hope to facilitate the issuance of humanitarian visas to family members of Afghans living in Switzerland, regardless of their residency status, and to advocate with the international community for the admission of Afghan refugees.
As part of their broader activities, they also provide individual legal support and templates for humanitarian visa and reconsideration requests for people from Afghanistan.
Why the AsyLex mission matters
The impact of the work done by AsyLex is best described by Bernhard, who told us, "By providing the evacuation information in one place, the people who needed to flee Afghanistan were able to find what they needed in a matter of minutes instead of having to search through government websites for hours."
People who potentially had the option of being evacuated were able to quickly find out whether they may be considered for one of the countries' evacuation programs. In the aftermath of the Taliban takeover of Kabul, it became clear that the Taliban deliberately spread false information to pick up vulnerable people. AsyLex was able to provide a crucial service by gathering the correct information and verifying it through the use of its legal, technological, and humanitarian expertise. Then they could make that crucial information accessible to those in need by publishing it using BRYTER.
Response to the war in Ukraine
In response to the war in Ukraine, AsyLex set up another specific BRYTER chatbot with answers to the most pressing questions regarding entry into the EU and Switzerland and both, legal information on the temporary protection status in the EU and the recently invoked 'Protection Status S' in Switzerland.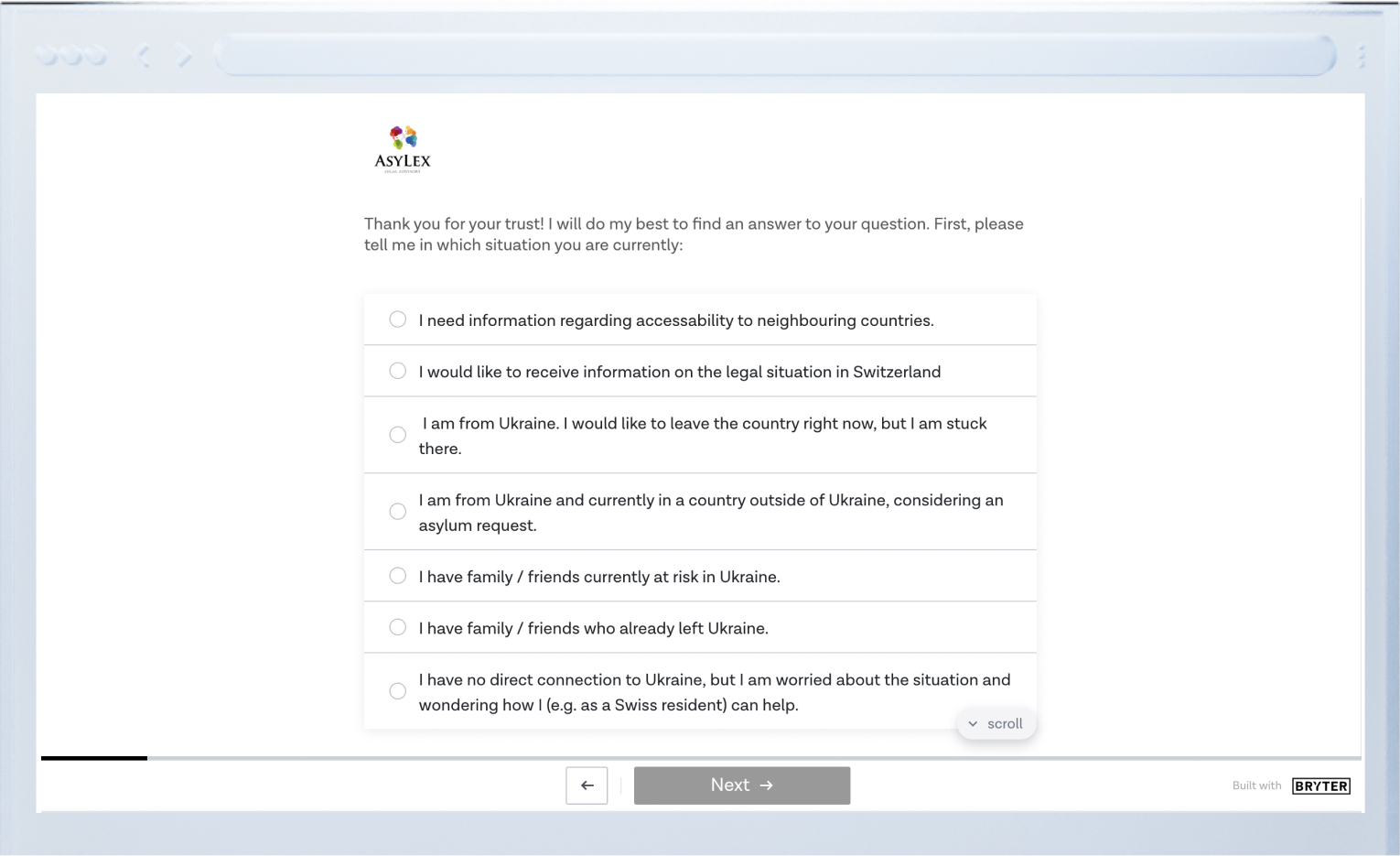 The information is available in English and Ukrainian and is updated on a regular basis by the teams at AsyLex and BRYTER.
Asylex has also established an exclusive contact point for individual requests for legal advice in context of Ukraine (ukraine@asylex.ch) to cope with the additional requests. Their efforts are supported by a Ukrainian lawyer with a background in International Human Rights Law.
To fund all of this and more, AsyLex started a crowdfunding campaign which you see here.
Digital solutions to amplify the impact
According to Bernhard, "Legal tech and, in particular, our BRYTER tools, help AsyLex immensely in making our work more efficient and impactful." By streamlining workflows and automating documents, AsyLex can direct its focus and resources to the highest impact tasks.
In addition, using digital solutions also enables them to focus more on legal reasoning, which in turn leads to a more mistake-proof process. A set of tools that ensure fewer mistakes can be made is incredibly helpful in their work. In particular, it helps the less experienced volunteers to deliver better quality advice.
Leaving the final word to Bernhard, "BRYTER is super easy to use and always works smoothly. Everyone at AsyLex loves it. It is a true game-changer for our volunteers."
If you are a nonprofit organization and would like access to BRYTER's no-code app builder, apply to BRYTER Open, our tech for good program. Or check out our Lawyer's Guide to Chatbots.