What's your job?
As a Product Designer, you'll be part of our remote-first, cross-functional Product Development team, consisting of product managers, designers, testers and developers. You'll work on the platform that is literally revolutionizing how our customers perform their daily work.
We promote simplicity and ease-of-use in an environment where intuitively designed software is hard to find. We remove the monotone and boring work from people's lives and enable them to automate their knowledge and decision-making process. Our product is used by the world's largest companies and institutions, and we are just getting started.
You will play a fundamental role in converting complex into simple, and turning what used to be intimidating into something easy to grasp. Come join the team!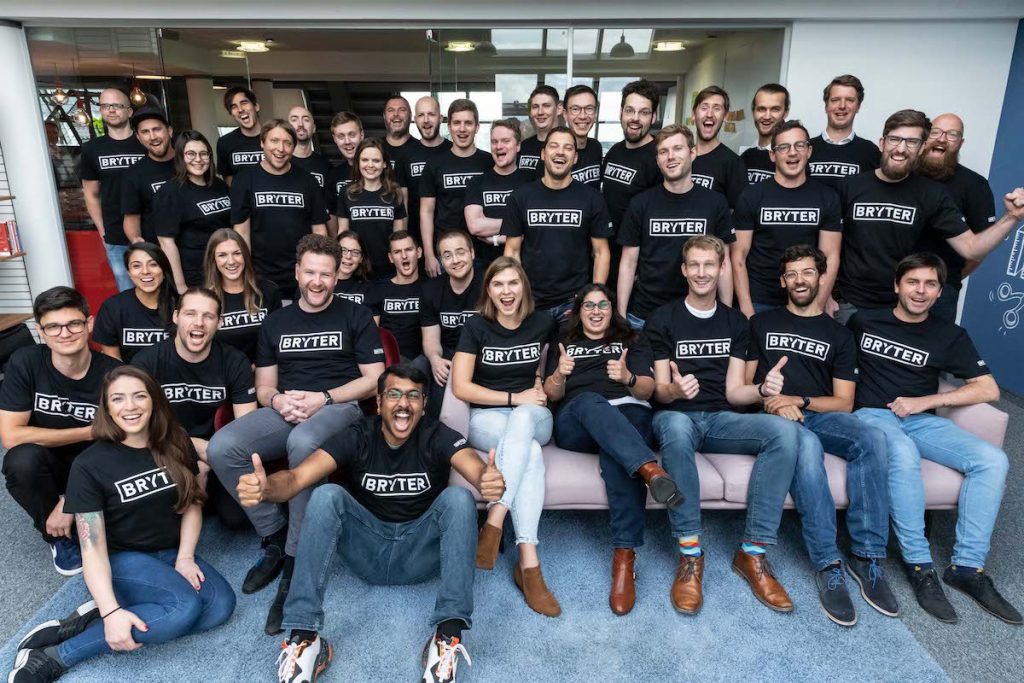 About you
👉 You love deep conceptual challenges
By this, we don't mean challenges like "where to put a CTA", we mean much more. We regularly deal with mind-boggling stuff that requires an exceptional level of problem-solving.
👉 You design based on research
You should have experience when it comes to qualitative and quantitative research methods to discover the real customer needs.
👉 You have real experience with code
You understand how software gets built, because you've done it. You understand how IDEs, source control and continuous integration all contribute to making good products. Perhaps you have even been curious about how different programming languages get the same thing done.
Still reading? You are already stealing our hearts!
👉 Additionally you have…
A good sense of UX along with tried methods and techniques
Proficiency in UI design for web applications
The ability to synthesize unstructured impressions into insights
The ability to handle a large volume of customer and stakeholder input
Experience collaborating closely with multiple disciplines, including product and engineering
Experience in working with an evolved design system
👎 This job is not for you if…
You reside outside of CET +/- 4h time zones
Why apply?
You will become part of a diverse and caring community
You will work with colleagues that care about the product and the people who build it
You will support customers who love our product and often express their praise
We will support you in becoming the best version of yourself – by providing challenging work, colleagues who you can learn from as well as a personal conference & training budget
You will get to work and make an impact on our main product and its core functionality
Your work will be shipped – very often
🗺 Location/Travel
Being a distributed team, you can work from wherever you want. The whole company gets together every quarter for a 2-day company get together. However, during the COVID-pandemic, these get-togethers have become virtual as well.
👩🏻‍💻 Flexible working hours
We know life comes with responsibilities and the occasional, unexpected occurrences, and encourage everyone at BRYTER to spend time on the people and things they care about. That's why working hours at BRYTER are usually as flexible as you need them to be.
💪🏽 Professional and Personal Growth
We cover up to 5 days of training or conferences per year, including travel and entrance fee. Additionally, BRYTER covers all costs for books and online courses, based on a fair-use-policy. And all that without lengthy, complicated processes or approvals. We trust you!
How to apply?
Start a conversation by reaching out to us. Just say hi, and tell us why you're interested in working with us. Please include your portfolio material and CV.
More about BRYTER
We enable business experts to build and distribute powerful applications. Our software is intuitive and simple enough for non-IT-experts to understand within minutes, yet powerful enough and enterprise-ready for industries with complex reasoning and demanding use cases. We especially cater to experts in law, finance, tax and compliance by helping them automate and standardise decision making.
We are a remote-first company. Our team consists of experienced professionals who are spread all over Europe. We strive for a company culture that puts people first and helps everyone to become better every day. An open, trusting and welcoming team atmosphere makes sure everyone can bring in their talents. Regular 1:1s and retrospectives are also encouraged to help us to continuously improve on a personal and team level.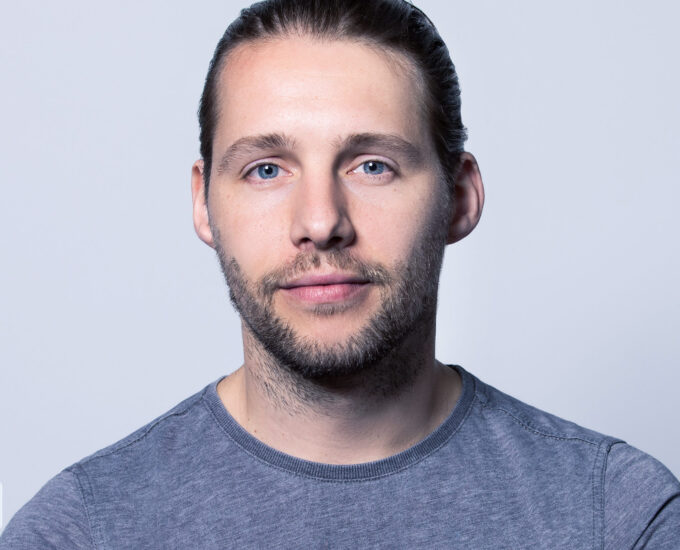 Aaron Kato
Product Designer
"I am Aaron, I shape our brand and user experience, ensuring that all interactions — regardless of medium — are consistent, intuitive and impactful. Over a decade as a professional designer, I've come to understand the incredible power empathy can have within a business context. As designers, we are powerhouses of empathy and we use it to both connect and disrupt — it's a lot of fun, but also a big responsibility. Safeguarding design's relevance and significance throughout the business is at the core of my role. Fortunately, there's a profound appreciation and respect for design here at BRYTER. It's reflected in the creative freedom designers get, and in the overflowing customer feedback we receive."
What does working at BRYTER look like?
At BRYTER, we believe in the power of self-organising teams and that everyone can be a leader. That's why we strive for a way of working that reduces unnecessary burden and instead focuses on delivering value.
📅 Meetings
There are only three regular, mandatory meetings:
A short 30min company-wide update meeting that happens weekly. This provides a forum for each business area of BRYTER to update the company on their progress towards their quarterly objectives.
Our weekly Product Sync, where we revisit what we're currently working on and what we plan to do in the upcoming week(s).
Weekly design critique sessions that enable us to share our feedback to a specific solution and exchange knowledge and ideas about best design practices.
Other than that, we do a company-wide virtual-coffee session every morning. Anyone who is interested and available can join this call. The only rule is, that we don't talk about work. It is an opportunity to laugh at what our dogs do to our shoes, share our first (or third?) coffee with each other and just try to kick-off the day in a great mood.
We do daily, written check-ins in Slack to keep everyone in the loop on what we're working on.
👨‍👨‍👧‍👦 Quarterly Get-together
We are a remote-first company. At the same time, we value the face-to-face time. That's why we get together at the same place at the beginning of each quarter. We spend the time strategizing, planning as well as just talking, having fun and getting to know each other better.
To date we have always done this in Frankfurt, Germany, where we have one of our offices. That's why we sometimes call the time that we get together, on-sites. However, during the COVID-pandemic, these get-togethers have become virtual as well.
🎹 Processes & Tools
Our main tool for coordinating our day-to-day work is Productboard, Notion and Gitlab.
We design mockups and clickable prototypes in Figma, in a lightweight and well-organised workflow.
We have our own design system called BLISS that's developing parallel to the product and is making things much more consistent and faster to build.
👩‍🚀 Organisational Model
At BRYTER we believe in the power of self-organizing teams and that everyone can be a leader. Everyone can participate in shaping the way we work at BRYTER, based on their interests and capabilities.
If you want to hear it straight from the horse's mouth what this means, how working at BRYTER is like, our CPO and Co-Founder Michael Hübl has recorded a webinar, where he shares a bit about our remote-first working culture.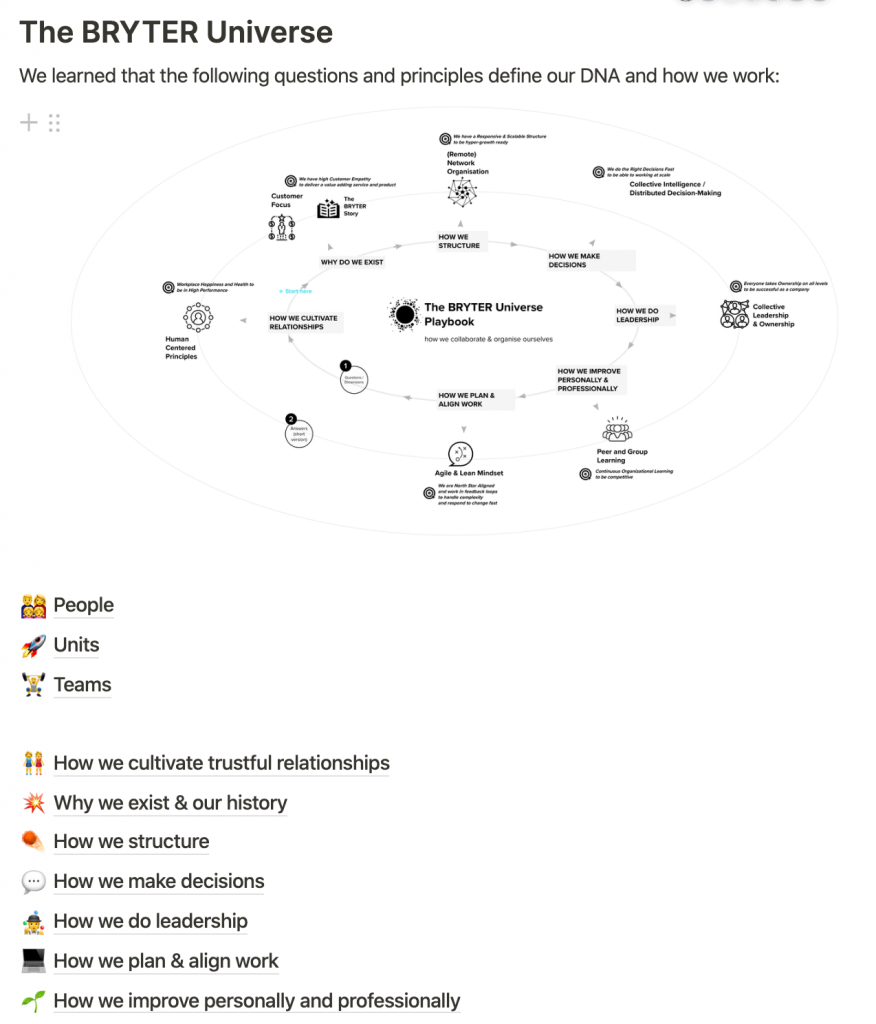 To that end we work hard to make the way we work explicit, to enable us to improve it continuously. Anybody on the team can propose changes and improvements in the form of a proposal, and proposals are by default accepted. Only if by getting feedback on a proposal a serious risk or harm for the organisation is identified, we ask the authors of a proposal to adapt it, usually with the help of the people who identified the risks.
How to apply?
Start a conversation by reaching out to us. Just say hi, and tell us why you're interested in working with us. Please include your portfolio material and CV.
Apply
Start a conversation with us! Just say hi, tell us why you're interested in working with us and attach your CV and any portfolio material.