What we're looking for
We are looking for a Backend Engineer experienced in building scalable Machine Learning-based applications. The goal of the team you'd be working in is enabling users to create custom-made information-retrieval algorithms on Legal documents by providing annotated data. In that regard, any interest or relevant experience in Natural Language Processing or Neural Network design is a big plus. Also, runtime performance is important to us, so we'd love it if you can help us ensure our algorithms have short execution times.
Responsibilities
You'd be joining a small and early-stage team at BRYTER. Thus, together with us, you have a lot of freedom and a lot of responsibility to shape how the team is working technically and culturally.
This includes the infrastructure for the communication between our customers' and existing and future backends. But also the integration of third party providers and the proper handling of potentially high-volume training data. If you bring experience and/or interest you can also contribute to designing, examining, evaluating and improving self-learning information retrieval algorithms.
Qualifications
For us your most important skill is your capability to build trusting relationships, to allow for clear and meaningful communication. You are keen to understand and empathize with different cross-functional perspectives, yet you know how to make your case and argue well.
On the technical side we expect you're proficient in Python and in the most libraries, such as PyTorch, Tensorflow, Keras, Pandas, NumPy or SciPy. As we're an early-stage team, and are looking for support in several areas, we hope you bring prior experience in architecting and designing a scalable Machine Learning based application.
You should have experience in discussing and making decision around the software architecture of machine-learning applications and cloud infrastructure.
It's not necessary, yet it'd be great if you're comfortable in dealing with algorithmic or statistical questions – and a big plus if you even enjoy it. You'd likely be a perfect fit for us, in case you bring some real-world experience in the realm of algorithms and statistics.
Why should you apply?
Direct impact on our product from day one
Colleagues that care about the product and the people who build it
We support you in your journey to become the best version of yourself. Not the least by providing challenging work, people around you who you can learn from, as well as a personal conference & training budget
BRYTER has a product & business model that's tried and tested and we're in the process of scaling our impact, so your impact can scale with us
Customers love our product which you'll have a key role in developing
This job is not for you
If you reside outside of CET +/-4h time zones or if you have no experience at all working with Python and Machine Learning topics, then this job is not for you.
How to apply?
Start a conversation by reaching out to us. Say hi, share why you're interested in working with us and send along your CV.
Who are we?
We enable business experts to build and distribute powerful applications. Our software is intuitive and simple enough for non-IT experts to understand within minutes, yet powerful enough and enterprise-ready for industries with complex reasoning and demanding use cases. We especially cater to experts in law, finance, tax and compliance by helping them automate and standardise decision making.
What does working at BRYTER look like?
We are a remote-first Software-as-a-Service company, with people across Europe. At BRYTER, we believe in the power of self-organising teams and that everyone can be a leader. That's why we strive for a way of working that reduces unnecessary burden and instead focuses on delivering value.
📅 Meetings
There are only two regular, mandatory meetings:
A short 30min company-wide update meeting that happens weekly. This provides a forum for each business area of BRYTER to update the company on their progress towards their quarterly objectives.
Our weekly Product Sync/Planning, where we revisit what we're currently working on and what we plan to do in the upcoming week(s).
Other than that, we do a company-wide virtual-coffee session every morning. Anyone who is interested and available can join this call. The only rule is, that we don't talk about work. It is an opportunity to laugh at what our dogs do to our shoes, share our first (or third?) coffee with each other and just try to kick-off the day in a great mood.
We do daily, written check-ins in Slack to keep everyone in the loop on what we're working on.
👨‍👨‍👧‍👦 Quarterly Get-together
We are a remote-first company. At the same time, we value the face-to-face time. That's why we get together at the same place at the beginning of each quarter. We spend the time strategizing, planning as well as just talking, having fun and getting to know each other better.
To date we have always done this in Frankfurt, Germany, where we have one of our offices. That's why we sometimes call the time that we get together, on-sites. However, during the COVID-pandemic, these get-togethers have become virtual as well.
🎹 Processes & Tools
Our main tool for coordinating our day-to-day work is Gitlab. We not only use it as central git host, but also for our complete CI pipeline, to trigger and execute deployments with it and track our work items (and bugs 🐛) with Gitlab boards.
Developers own the development of their improvements and features and guide them until they are in production. And while some parts of the application are worked on mostly by a smaller subset of the team, we practice shared code ownership.
We practice a branch-based development workflow and do code reviews via merge requests (Gitlab-speak for pull requests). To enable quick feedback-cycles we aim for short-lived branches and provide automated means to deploy every branch to their own environment.
We put a strong emphasis on automated testing and having a test coverage that follows the testing pyramid. And as with most things, we aim to get better at these practices, which means we're not perfect. 😇
When it comes to tools, such as an IDE or editor, you are free to use whatever you prefer. We provide JetBrains licenses, in case you like to use their tools. And of course, you're free to choose your computer hardware and operating system.
👩‍🚀 Organisational Model
At BRYTER we believe in the power of self-organizing teams and that everyone can be a leader. Everyone can participate in shaping the way we work at BRYTER, based on their interests and capabilities.
If you want to hear it straight from the horse's mouth what this means, how working at BRYTER is like, our CPO and Co-Founder Michael Hübl has recorded a webinar, where he shares a bit about our remote-first working culture.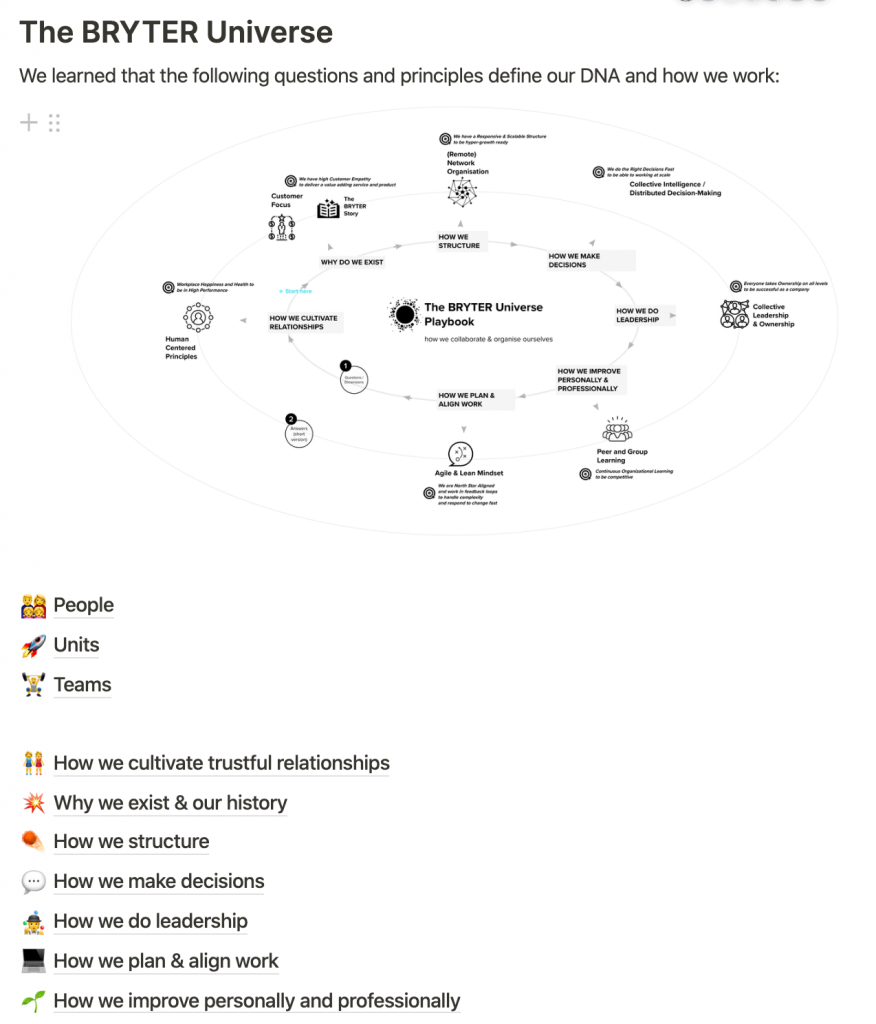 To that end we work hard to make the way we work explicit, to enable us to improve it continuously. Anybody on the team can propose changes and improvements in the form of a proposal, and proposals are by default accepted. Only if by getting feedback on a proposal a serious risk or harm for the organisation is identified, we ask the authors of a proposal to adapt it, usually with the help of the people who identified the risks.
Advantages of working at BRYTER
🗺 Location/Travel
Being a distributed team, you can work from wherever you want. The whole company gets together every quarter for a 2-day company get together. However, during the COVID-pandemic, these get-togethers have become virtual as well.
👩🏻‍💻 Flexible working hours
We know life comes with responsibilities and the occasional, unexpected occurrences, and encourage everyone at BRYTER to spend time on people and the things they care about. That's why working hours at BRYTER are usually as flexible as you need them to be.
💪🏽 Professional and Personal Growth
We cover up to 5 days of training or conferences per year, including travel and entrance fee. Additionally, BRYTER covers all costs for books and online courses, based on a fair-use-policy. And all that without lengthy, complicated processes or approvals. We trust you!
How to apply?
Start a conversation by reaching out to us. Say hi, share why you're interested in working with us and send along your CV.
Apply
Start a conversation with us! Just say hi, tell us why you're interested in working with us and attach your CV and any portfolio material.