Win with automated deal cycles
Accelerate your sales process
Provide a single point of access to the contract process so Sales can quickly go from request to signature, automating even amendments and renewals along the way.
Empower your Sales team
By giving Sales the power to build and negotiate their own contracts, without sacrificing adherence to legal guidelines, sales cycles accelerate, and less time is wasted on deal delaying back-and-forth.
Legal services where you need them
Enjoy a fully embedded deal and contract lifecycle journey right in your Salesforce environment. Manage and quickly modify your sales and legal processes in BRYTER, then offer them in Salesforce.
Increase win rates, recognize revenue sooner
Long waits for Legal approval adds risk to your deals. Automating the creation, distribution, and execution of proposals and quotes, accelerates your deal cycles to realize revenue faster and win more.
Improve renewal rates
Proactively and automatically send renewal communications, deadlines, and contracts to your customers on time with the correct data to retain more of your customers.
Align your services in one digital place
BRYTER's no-code deal desk solution aligns legal, sales ops, and contract teams, simplifying the execution of contracting tasks, reducing time-consuming back-and-forth, and driving process improvement.
BRYTER augments and integrates with your existing CPQ and CRM process on Salesforce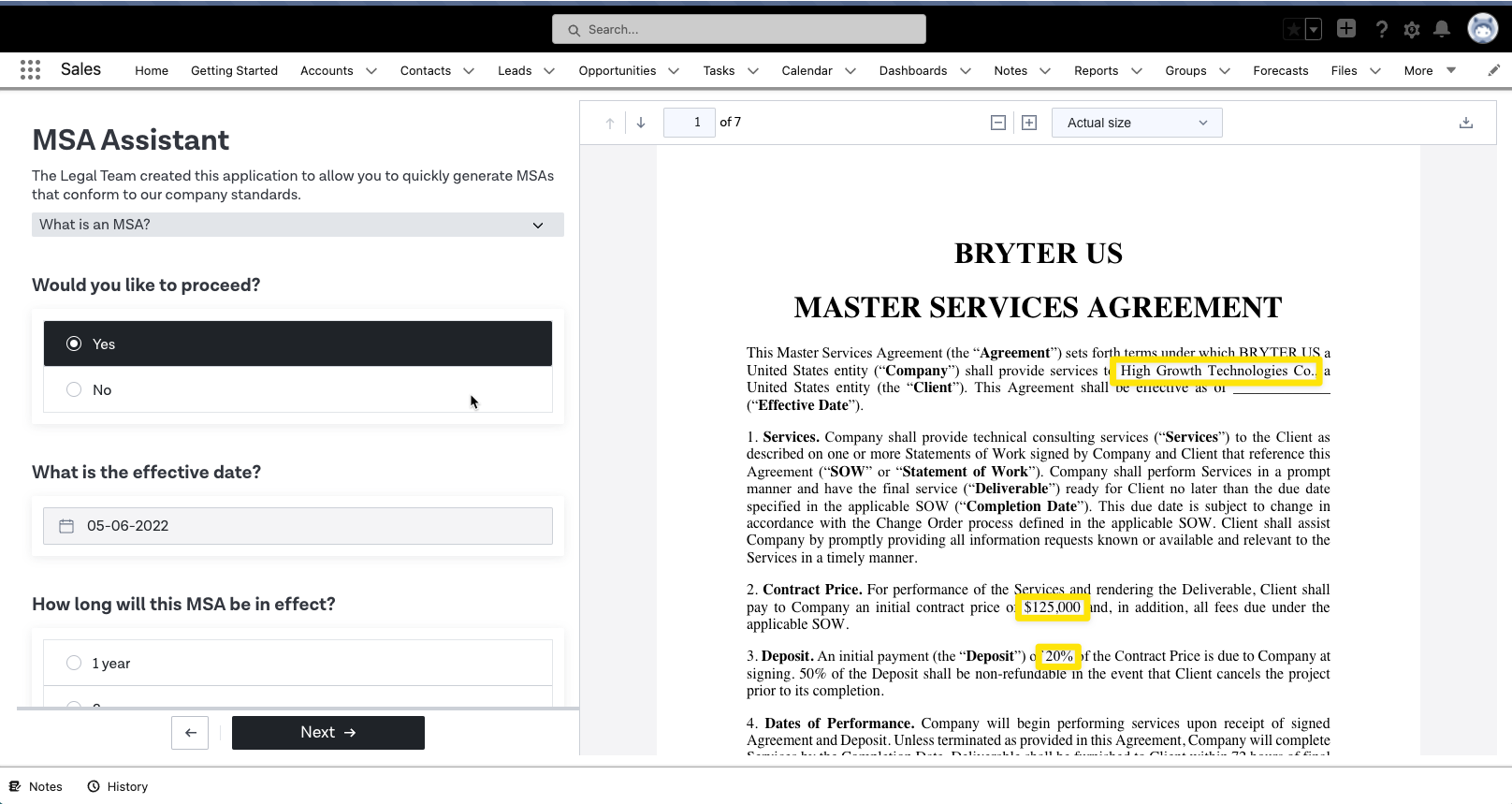 No-code deal desk management
BRYTER deal desk drives business growth by aligning contracting and quoting process, teams, and technology under a no-code process and experience builder on top of Salesforce.
BRYTER Deal and Revenue Lifecycle Solution
Contract Revenue Lifecycle
Propose & Quote
Create & Execute
Manage & Fulfill
Renew & Expand
CPQ
Automatically generate pricing for quotes, proposals, invoices, and renewals faster and more accurately.
Paperwork
Automatically generate error-free, on-brand documents and contracts for all use cases, pulling in accurate data from Salesforce.
Manage & Analyze
Manage incoming and ongoing requests and use contract data to drive continuous improvements to your processes.
Manage BRYTER Services Outside Salesforce
Keep admin and oversight tools right where the Legal team needs them the most
Quickly update templates and workflow logic without needing Salesforce administrators​
Build internal deal desk and matter management tools that update automatically ​
Data & Analytics
Analyze your data and make decisions.
Track all your data and contract information
Get actionable insights
Use customizable dashboards