2021 represents a landmark year for automation, with innovation managers using the impetus of the COVID-driven automation push to demonstrate how the legal world can adopt the latest in IT productivity services.
The driving force of change, exacerbated by COVID, has dramatically reshaped the operational business environment across all markets, even traditional areas like legal firms. Adapting to the challenges we face and preparing for those ahead relies on the all-digital, as-a-service world that most customers now expect.
Whether they like it or not, legal professionals efforts are driven by the rapid adoption of remote work, digital collaboration, automation and other technologies. All of which show proven results to highlight their benefits. Innovation managers are charged with meeting the needs of clients, creating distinctive offerings that stand out in a crowded marketplace and helping modernize businesses.
The speed and flexibility of cloud, automation or chatbots for business can deliver a quick win and tangible benefits, while demonstrating that lawyers do not need to wait for IT or developer support or lengthy approval processes for a project. IT innovation increasingly starts on the lawyer's laptop and innovation managers can help make the latest trends visible, armed with the latest statistics.
Predictions and stats highlight the benefits of bots and automation
Chatbots already save businesses substantial capital expense as they wind down call center operations in favor of a digital or blended approach. Juniper Research predicts an $8 billion saving for businesses by 2022, up from just $20 million in 2017.
The 24/7 accessible nature of bots and instant response saves customer time, with success rates up from 20% in 2017 to 93% by 2022 in the banking world according to Juniper. The ability to update them with the latest information live (a vital feature during the fast-changing nature of COVID-19) all help innovation managers drive the case for bot adoption, with typical support or advice bots easy to create and prove in the workplace.
The rise of AI in chatbots helps deliver automatic translation, training bots to answer new questions that customers have, and finding relevant information from deep learning for more complex issues. These features add value beyond what lawyers might consider basic chatbots, as they move beyond B2C customer services to a concierge and trusted-advisor approach for B2B deployments.
AI itself is predicted to deliver some $3 trillion in business value through 2021 according to Gartner.
Gartner is just one research outlet, using the variant term augmented intelligence. This is in their view, the value that AI in combination with human knowledge, adds to businesses through decision automation and support, agents and smart products.
"Gartner defines augmented intelligence as a human-centered partnership model of people and AI working together to enhance cognitive performance. This includes learning, decision making and new experiences. Augmented intelligence is all about people taking advantage of AI," said Svetlana Sicular, research vice president at Gartner. "As AI technology evolves, the combined human and AI capabilities that augmented intelligence allows will deliver the greatest benefits to enterprises."
These latest ideas will help innovators and businesses understand the concepts, and focus on the operational aims of AI and other tools, moving away from the long-running hype over AI and chatbots. Other names will come to the fore, like compliance process automation and service automation, as the need for a business focus overcomes the usual marketing hype.
While Gartner's predications apply across most larger business types and markets, legal businesses are already using automation for compliance, case management, tax and customs checkers among other use cases that will deliver added benefits as they become smarter through AI.
More specifically from Gartner, their legal and technology predictions for 2021 include the notion that by 2024, legal departments will have automated 50% of legal work related to major corporate transactions. And, by 2025, at least 25% of spending on corporate self-service apps will go to non-specialist technology providers.
Digital business as a driver for automation will affect the legal landscape in many ways, with investment firm Accel seeing huge growth in European startups delivering vertical or market specific solutions. Last year, they predicted that it would take another three years for Europe to generate its first decacorn. UiPath broke that milestone this summer, in just nine months, establishing Europe as a major global center for software innovation.
We predict that growth rate to continue to accelerate as all companies, including legal firms, adopt digital business methods in 2021 and beyond. Certainly, COVID-19 helped deliver strong acceleration for businesses focused on automation. Firms in legal, HR and finance raised $909 million, in part as the move to automation and hyperautomation begins to gain traction.
Accel's Phillipe Botteri says of this new trend, "Hyperautomation – Bots and citizen developers transforming the Enterprise: Most people in the world use software, but fewer than one percent can code. It is as if 99% of the world could read but only 1% could write. The emergence of low code/no code platforms is changing this paradigm, enabling a growing number of employees to automate their business processes. Combined with the rapid rise of RPA automating the data and intelligence layers, we expect Enterprise to hyper-automate in the coming years, leading to the rise of a new generation of cloud services."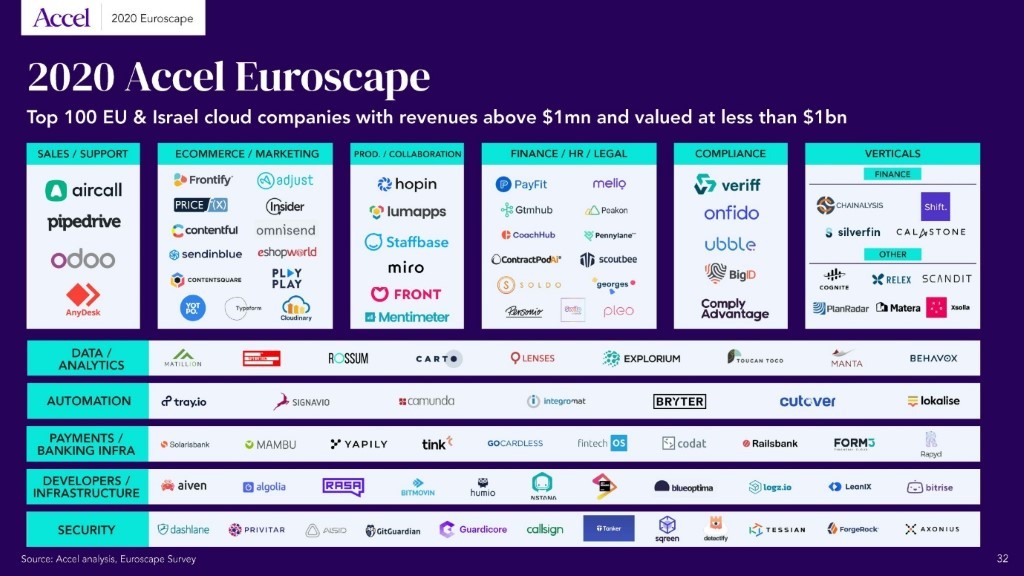 Typical business cloud services are the glue that holds these innovative technologies together, many lawyers are daily users of Teams, SharePoint and other productivity applications. As AI and document automation features become an embedded or connective part of office tools, we predict more legal professionals will understand the benefits and opportunities they create, giving innovation managers an easier sell for automation.
While it is easy for vendors to wave the AI, chatbot, and automation banners to attract attention in marketing pieces, the reality is that many businesses have several years of experience with them, and they are no longer "cool" in organizations that are digitally mature, with leaders and operators sharing success stories and spreading news as they meet or move between businesses.
Lawyers need to learn to love the cloud
Currently, lawyers and legal departments might still think of cloud as a security risk, or chatbots and AI as cool, but the predictions are that fear and novelty will wear off thanks to proven business use cases and success stories that innovators can use to demystify them.
The American Bar Association's TechReport 2020 also does some forward looking, notably for cloud computing, starting off with "The biggest story in the 2020 ABA Legal Technology Survey Report is not so much the 2020 results. It is the not-yet-written story of the 2021 results as we see the impact of COVID-19 and "work from home" on the way the legal profession works."
The survey highlights that its results again show lawyers still use the cloud much less than the rest of the business world. Overall, the report notes that cloud usage stayed flat from 2019 to 2020 at 58%, but specific tools like Dropbox see greater adoption at 67%.
Beyond law, the 2021 general technology prediction pieces are publishing, pointing to AI, 5G and as-a-service as the key trends. With all of these interlinking in some way, as Forbes points out, "as-a-service – the provision of services that we need to live and work through cloud-based, on-demand platforms – is the key that has put the other tech trends we talk about today in reach of anybody. It is the reason AI and robotics are a possibility for just about any business or organization, regardless of their size or budget."
Another report looks at the rise of ethical data developments in 2021 and beyond, to address growing data threats and breach events. Growing calls for legislation will require legal departments to better understand the risks and solutions as part of their day-to-day and client-facing activities.
All of which emphasizes the importance of law companies adopting technology through innovation managers, proving their worth to the business, while knowledge workers and experts build up a base of experience with tools like AI and no-code can prepare them for faster, wider changes as the business landscape evolves.
If you are interested in automation technology and ESG software, learn how BRYTER no-code platform can help digitize your business. How? sign up for a demo now.