The core value of no-code is best seen in the way it enables business experts across the company to turn specific workflows, applications, decisions and knowledge into digital applications, without asking for complex, costly applications from IT teams or external software developers.
No-code brings the highest value to enterprises and legal teams in allowing automation of low-complexity, repetitive, yet slightly different tasks, enabling these professionals to focus on the more complex, bespoke work.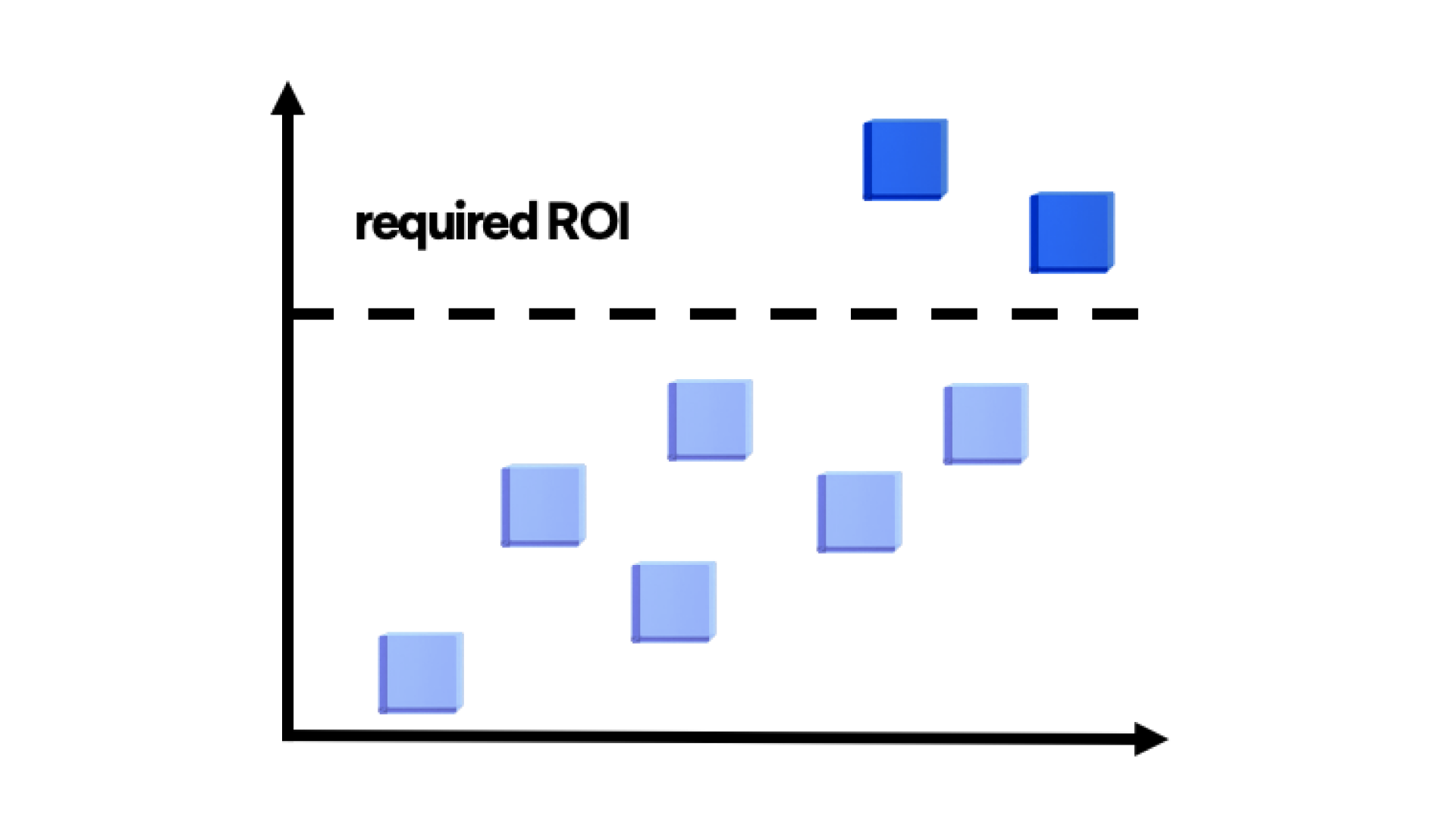 The timing of no-code emergence and adoption in legal operations follows a similar pattern. In-house legal experts today face numerous requests, each slightly different from the other. Building a single tool to address these requests does not work.
Building several tools with custom code to address these requests also does not work, as most of these problems are not a reason enough for the company to spend its resources: there is simply not enough ROI to invest.
But these requests, while not a priority for the company, are a major obstacle for in-house legal teams, dragging down their efficiency and keeping them unprepared to address the rising workload. That is where a no-code platform helps—it enables legal teams to build their own tools via legal workflow automation, without any coding required and within the approved budget.
How legal workflow automation can help in-house legal teams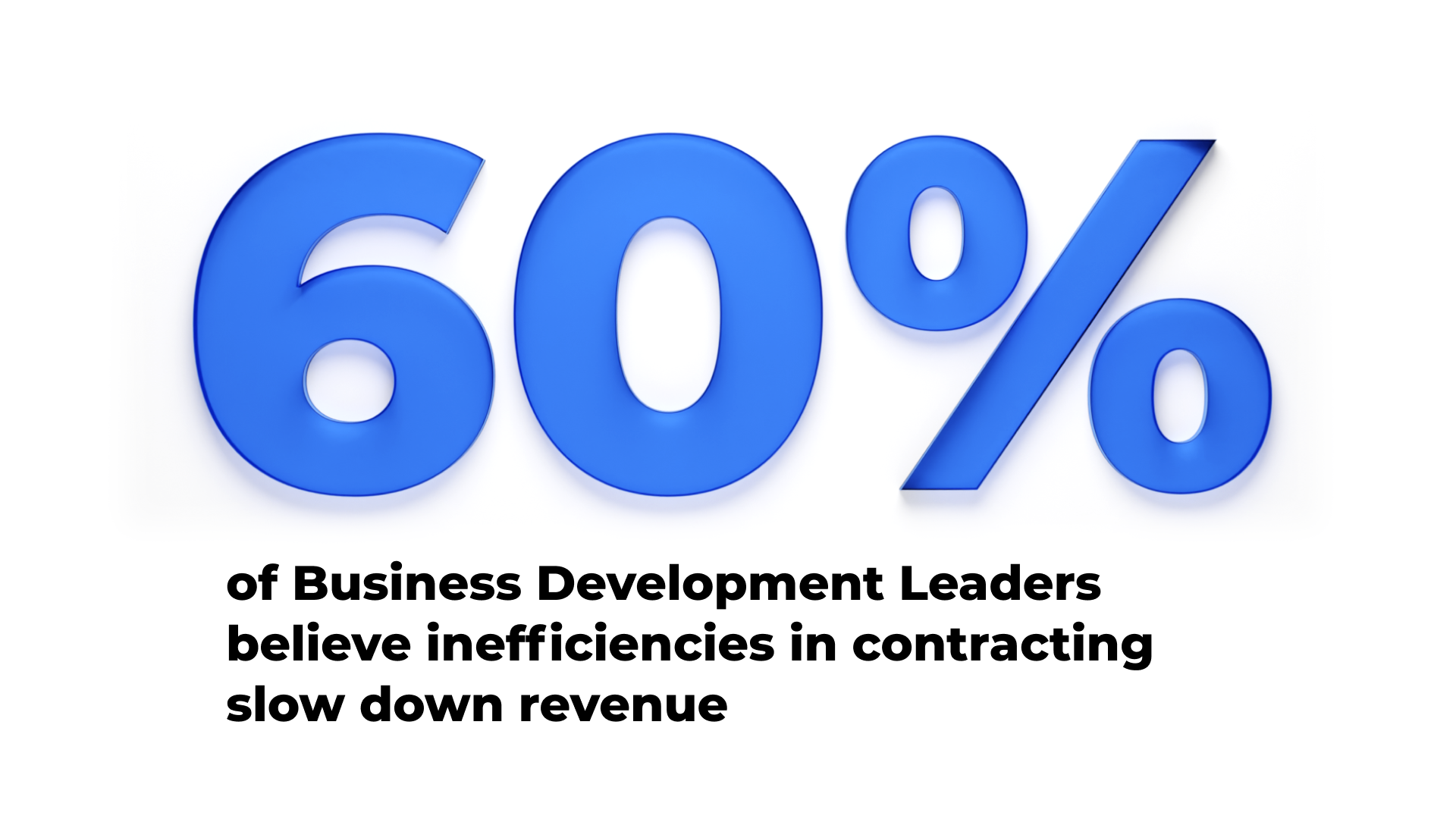 The 2021 EY Law Survey found that 90% of Business Development Managers find it challenging to work with procurement, law and commercial teams on contracting. And even more alarming, around 60% of Business Development Leaders believe that inefficiencies in contracting slow revenue recognition and 50% of them believe operational blocks have resulted in a loss of business.
Finally, workload and the need to deliver high-impact work that supports the business in achieving commercial objectives, only 52% of General Counsel believe their legal departments are effective in delivering value to business according to the EY Law Survey.
No-code helps General Counsels make the transition from business blocker to business enabler. In-house legal teams have a way to turn their legal services into self-service applications – and by doing this make their advice and knowledge accessible 24/7, anywhere. They can manage frequently occurring requests and processes, like evaluating the risk of a new commercial counterparty based on a set of pre-defined logic, or producing a non-disclosure agreement. Their colleagues are then able to proceed with commercial activities, incorporating legal advice as part of their processes. The end result: business decisions are accelerated towards achieving positive business outcomes.
By creating digital workflows with a no-code app builder, legal teams take their manual legal work and turn it into something measurable. This transition – from offline and manual, to digital and quantifiable, means legal teams have access to previously unknown analytics, like how many requests are made of their team and in what legal area. By tracking data across legal processes, legal teams are equipped to analyse the data, improve processes and achieve faster outcomes.
Reducing the ROI bar
In-house legal teams struggle to get the time, money and resource to address the recurring, manual tasks that simply need to be done. This is partly attributed to the reasoning that using company's IT resources to build such tools does not provide enough return on investment (ROI). In other words, this manual work is an obstacle, but not a big enough business obstacle to generate enough of an ROI to divert resources to solve. The ROI bar is too high.
By enabling in-house legal teams to quickly and easily build digital applications that automate this routine work, no-code enables the digitization of challenges which were previously "not worth it".
No-code reduces the ROI bar for building digital solutions, enabling GCs to secure the buy-in from the C-Suite to provide their teams with powerful digital apps that improve the day-to-day running of the team.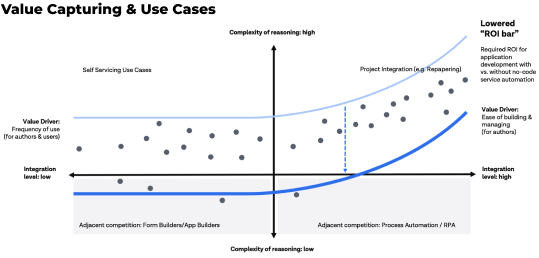 Customer-centric legal services through design thinking
Sketching an idea out is an efficient way to test a hypothesis early on, which is why the visual appeal of no-code strikes a chord with so many solution designers. To make the most of visualization of problems, many teams that deliver services have embraced design thinking.
Design thinking is a methodology that helps teams build customer-centric products that make an actual difference for the end-user. This approach combines desirability, viability, and feasibility, and works through a series of cycles of brainstorming and reviewing to create the solution that alleviates user pains and delivers genuine value.
And the trend is becoming popular among legal teams, who embrace design thinking to deliver impactful improvements that are geared toward the end-user. Working in iterations, legal teams make a series of incremental adjustments to their services, each iteration raising clients' accessibility to the legal services they need in everyday work.
Legal information thus becomes more digestible, and the streamlined workflow helps drive digital transformation faster, ensuring market competitiveness.
Many in-house legal teams were quick to embrace this new paradigm. The in-house team at Australian telecoms company, Telstra, uses design thinking to enable answering queries in a set timeframe. Meanwhile, international law firm, Linklaters, enhanced the way it performs due diligence activities in structured finance transactions using design thinking. Additionally, the legal team at Atos, a French tech company, uses design thinking to improve contracting and deliver higher-value services to clients.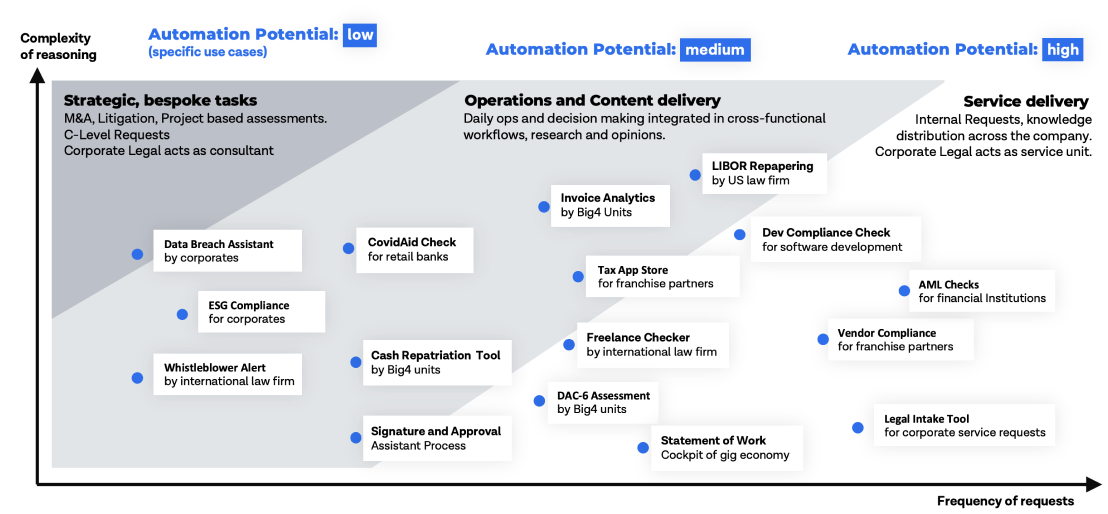 But the real acceleration happens when design thinking is coupled with no-code. No-code enables teams to quickly and easily build applications to test hypotheses. They do not have to commit to a big IT project, but rather can build, test and iterate quickly, ultimately enabling them to deliver the best product which solves the biggest pain points for their users.
If you are looking to build a chatbot for business or create a consistent approach to better manage risk with a playbook software, book a demo to discover how BRYTER can help your business to automate complex services.