Your complete guide to automating manual and routine legal processes
Workflow automation is changing the way all business units operate, and legal teams are no different.
The role of Legal Operations is moving from a supporting function to that of a business leader. Businesses now understand that innovation and transformation come from within, and through a change in mindset, Legal Operations is called upon to advise and drive the entire company through the rethinking and improving of in-house business processes.
Enter workflow automation, a key tactic driving the optimization of business processes, allowing legal teams to spend more time on solving high-value problems and less time on repetitive administrative tasks.
What is workflow automation?
Workflow automation is the design and implementation of ways in which to automate business processes, either partially or fully.
The end goal of workflow automation is to make the business more efficient in key areas, whether it's reducing the time it takes to get a contract signed, generating an invoice, or ensuring decisions are made in compliance with company policies in real-time.
This is achieved by introducing automated processes, which are free of manual work, errors, and are altogether faster and less demanding of employees.
Workflow automation rests on a predetermined rule-based logic. Tasks and files are routed between business systems, tools, and people, in line with the predetermined workflow rules. In the past, workflow automation involved some level of coding and software development, but modern no-code tools make automation possible through a simple drag-and-drop interface, so Legal Operations can create and manage automations themselves without additional support from IT or a software development firm.
Simply put, you design the rules of the process only once, and each next time, the tools follow those rules, without you having to manually look after them.
For example, think of NDAs generated based on a few input fields from the party involved, each consistent with house style documents, and communicated automatically via email.
On your end, all you have to do is select the jurisdiction, and the workflow automation bot will take care of the rest, from communicating with the parties involved to generating final documents.
What are examples of workflow automation?
Workflow automation has found its way across all legal functions. Some of the most common and useful examples of workflow automation include:
Contract management
Intake tools
Virtual legal assistant (Virtual Front Door)
Compliance workflow automation
Assessing compliance with various regulations and rules across industries, from GDPR to CCPA, or domain-specific such
ESG investment rules or MA transactions.
Why is workflow automation important?
Workflow automation is important because it allows the business to improve day-to-day operations and informs strategic decision-making.
First, by automating repetitive workflows, you increase efficiency across departments. For instance, by automating the invoicing procedure, in-house counsel have more time to focus on other strategic tasks that have a high impact, but can't be automated. And so workflow automation helps in particular with legal processes that need to be done, but are time-consuming, repetitive, prone to errors, and put a drag on employee morale.
Second, this efficiency gained through workflow automation bolsters the productivity of legal teams. More work gets done now that your team has time to work on non-repetitive, high-impact tasks.
This also boosts employee job satisfaction and leads to innovation – as the mindset around automation and legal tech changes, so does your team start to identify other processes that can be automated. In time, Legal Ops starts moving from executing, to planning and strategizing business workflows, becoming the central driver of innovation in the company.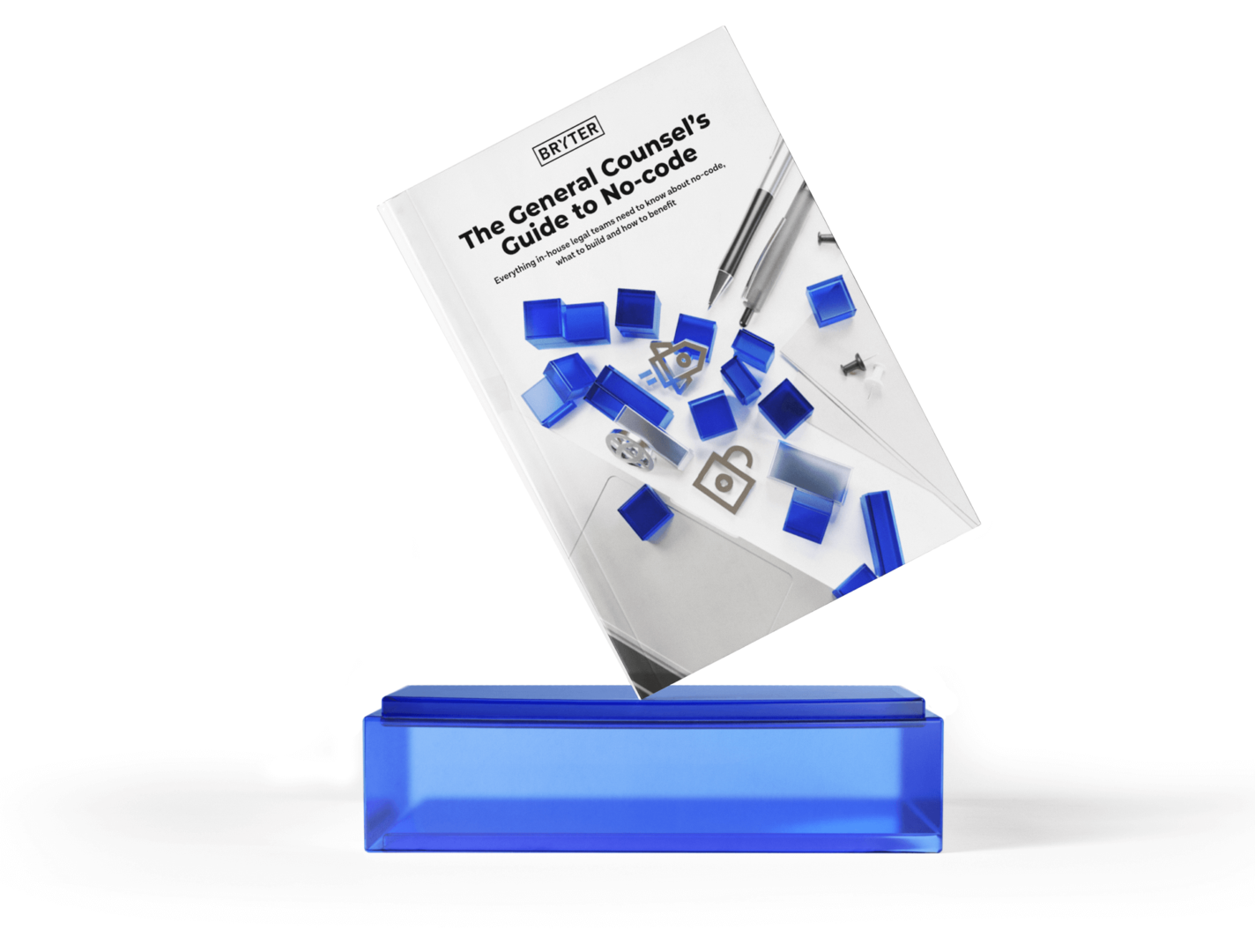 TRENDING
The General Counsel's Guide to No-code
Find out how in-house legal teams use no-code to save time, increase capacity and provide faster services to internal clients.
What is legal workflow automation?
Legal workflow automation is simply the automation of processes across legal departments. Given the volume of manual work for in-house legal teams, legal workflow automation helps to take care of low-complexity, repetitive tasks that simply need to be done.
This includes anything from vendor risk assessment to evaluating compliance with the company's gift policy, to issuing employee reference letters or creating NDAs and employee contracts.
Through legal workflow automation, legal teams can put in place fully automated processes that get the otherwise-manual work done, with minimum day-to-day input from legal professionals.
As a result, in-house legal teams and legal ops have more capacity to focus on more strategic, higher-complexity work.
Measuring workflow automation KPIs
Intake and self-service apps allow businesses to measure and improve the efficiency of their processes. As applications built on BRYTER no-code platform allow for seamless tracking of usage, a legal team can underpin their operations with structured data. It is possible to document data and to later revisit it. This has several advantages:
Measuring time savings
Identifying bottlenecks
Documenting processes and decisions
Revisiting data and decisions
Visualizing structured data
What to look for in workflow automation solutions
As workflow automation tools speed up processes, reduce errors and costs, and allow teams to get more high-impact work done, it's unsurprising that many in-house legal teams are eager to implement them straight away.
However, to make the most out of workflow automation solutions, you need a blueprint of what you aim to achieve with these tools. So, first build a tangible use case, with clearly demonstrated value for not just the legal team, but the company overall.
But before you build a case for workflow automation, you need to know what to look for in features and capabilities of automation tools. In the articles below, we will look at each of these aspects in greater detail, but as a rule of thumb, your workflow automation solutions should be able to:
Integrate with your existing systems and infrastructure
Allow non-technical domain experts to use it without issues
Connect the workflows and processes between different departments
Adapt to any changes in your workflow, whether it's a regulatory change or a company policy update
Scale to support company growth across verticals and functions
Getting started with workflow automation for legal
Building workflow automation with no-code | Secure buy-in for Legal Ops workflow automation | Selecting tools for workflow automation – expert advice | Intro guide to no-code
Legal Ops is moving from advising to driving the business. If you want to learn how you can build digital applications to provide faster, more accurate legal services, using a no-code app builder, get your copy of our no-code guide for in-house legal teams.