Everything you need to know about legal engineers — what they do, why they're becoming increasingly common in law firms and corporate legal departments, and how they're shaping the future of law.
Just like every other essential part of a business — and really of our day-to-day lives — parts of legal professionals' work must, inevitably, evolve with technology. Everything around us is being digitized to be faster, easier, better, and more cost-effective.
Legal work is unique, tailored, highly-specialized work with high stakes. These qualities make it more difficult to standardize, but when in-house lawyers struggle with their highest-ever workload, the pressure is on to develop digital legal solutions. But the average software developer doesn't have the legal expertise to effectively digitize the work of a lawyer, or to create digital legal products that provide a service on par with manual legal intervention.
So, enter the legal engineer, the link between legal expertise, software, and service delivery. Below, we'll tell you about the legal engineer's growing, crucial role in the legal industry, share some examples of legal engineering, and show you how you can get started if you want to become a legal engineer yourself.
What is a legal engineer?
A legal engineer is someone that builds and optimizes legal solutions, products, services, and processes.
Legal engineers are increasingly common fixtures in law firms and corporate legal departments. Their responsibility, in essence, is to develop digital tools and processes that improve the way legal services are delivered. Legal engineering is used to optimize workflows, increase overall efficiency for legal teams, streamline non-billable work for law firms, and turn legal expertise into digital products.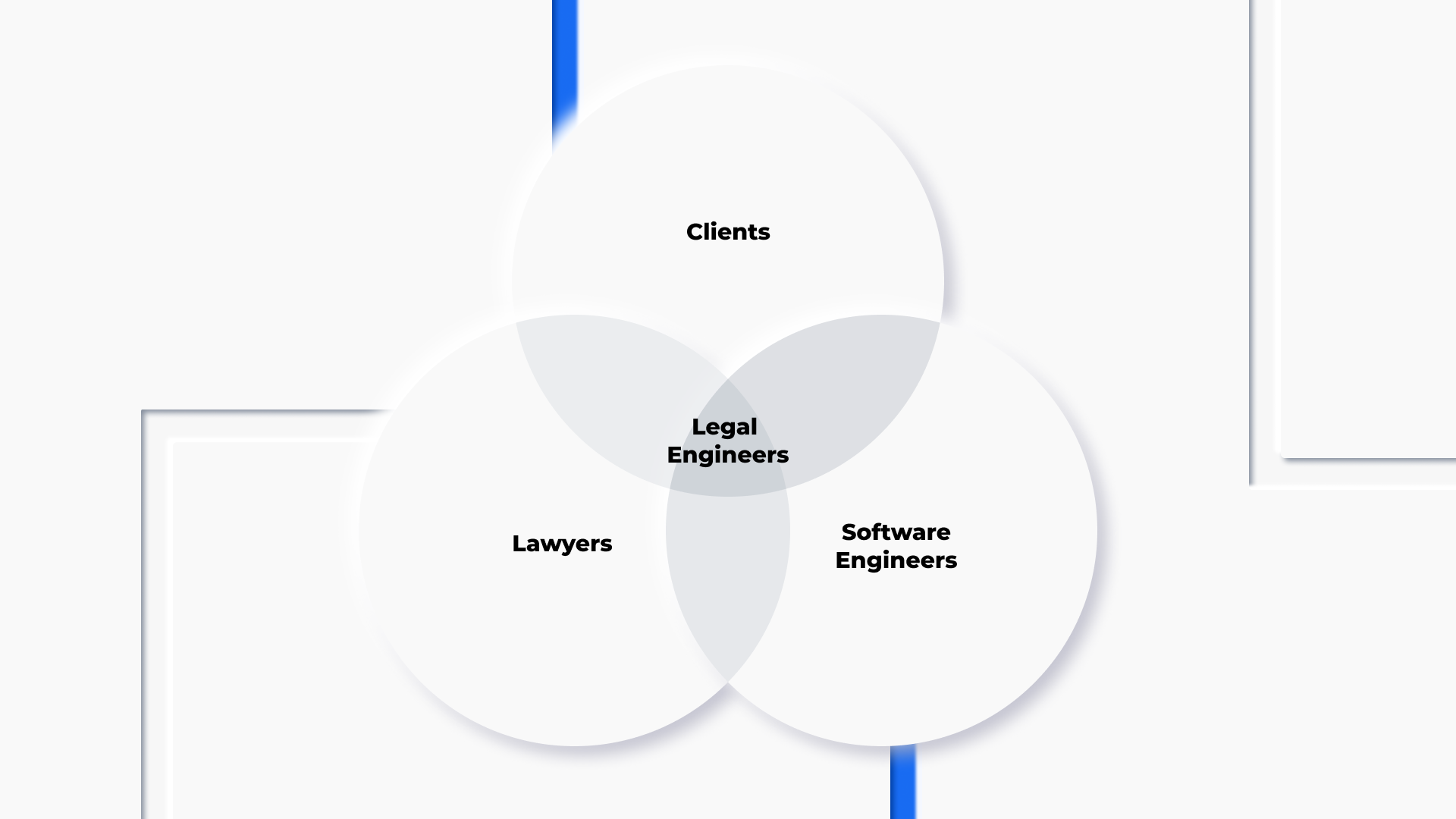 The role of the legal engineer often involves not just developing solutions, but identifying which solutions clients — be they internal or external — need most, assessing unique needs, and ensuring client success. They are sort of the Swiss Army Knife of law, encompassing product development, customer success, IT, and of course, law.
Successful legal engineers are empathetic, highly strategic, analytical thinkers, and technically skilled with software development.
Legal engineers and technologists go by many names and can sit in many different areas of a law firm or corporate legal department. They might be innovation officers, partners, knowledge managers, paralegals, application managers, or directors of IT. Anyone who designs, develops, or optimizes digital legal solutions can be considered a legal engineer.
Legal engineers in law firms
Legal engineers are especially common at top law firms, where they develop digital solutions for their clients. Firms and providers like PwC, KPMG Law, Troutman Pepper, DLA Piper, Clifford Chance, Ashurst, and Addleshaw Goddard all have in-house legal engineers and have built and deployed numerous digital products that help their clients.
In a law firm, some legal engineers sit on the innovation team, some are paralegals or knowledge managers, and some are full-time developers. They might work with a software engineering team, independently, or with other legal engineers depending on the needs and structure of their organization. They might also work directly with clients, building and customizing digital legal solutions for them.
To learn more about the role of legal engineers in law firms, check out the insights from our recent conversation with Andrew Medeiros, Director of Innovation Solutions at Troutman Pepper.
Legal engineers for in-house legal
In-house legal departments utilize legal engineers to help them save time on repetitive tasks and re-focus on high-value strategic work. As they automate workflows for contract requests, NDAs, and other common legal needs, they also minimize risk and reduce errors by ensuring the same process is followed every time, automatically.
An in-house legal engineer typically sits within the legal team, liaising with IT or software development. In some cases, they exist as part of the legal operations function. A business might also look to their trusted law firm for legal engineering resources, or to alternative legal service providers (ALSPs) to build specific, custom solutions.
Legal engineer background and skills
Many legal engineers started pursuing a more traditional career in law before combining that with a passion for innovation and technology. While it helps to have some understanding of law, a growing number of legal engineers are developers who have gained some legal domain knowledge over time through collaboration with subject matter experts.
Regardless of background, there is a set of hard and soft skills that support success as a legal engineer:
Hard skills
Legal domain expertise
Legal market knowledge
Legal methodologies
Basic coding or development skills
Understanding of technology
Project management
Soft skills
Creativity and vision
Pragmatism
Communication
Empathy
Diligence
Curiosity
The rise of legal engineering
To explain the rise of legal engineering, you really just need to look at the top concerns of today's general counsel.
In our own survey of GCs, many representing companies across the Fortune 500, the overwhelming majority identified their top concern as managing workload against time and resources. In second place was adopting new technology. That's because the two are related.
GCs are facing their highest-ever volume of requests, adjusting to a vast number of changing regulations globally, all while maintaining their standing as trusted advisors to their companies. They understand that to keep all the plates spinning, they'll need to embrace technology. But legal work is tailored, unique, challenging work that often can't be handled by one-size-fits-all software. Companies are turning to legal engineers — either internally or at the law firms that serve them — for custom digital solutions to meet their unique needs.
Building the future of law
The business of law is shifting drastically. What used to be very hierarchical structure dominated by senior attorneys is becoming more inclusive, collaborative, and innovative. Legal engineers, tech managers, business development managers and other non-lawyer staff have gained a prominent seat at the table when it comes to building a firm's strategy.
This is good news for the legal industry. A diversity of perspectives enables more innovative thinking, better service models, and happier lawyers and clients alike. This new structure maximizes the time and value of everyone in a legal organization and allows teams to be more agile and able to adapt to and solve new challenges as they arise.
And while every problem can't be solved by tech, increasingly, there are fewer and fewer solutions that aren't going to be tech-enabled in some way. This makes the role of the legal engineer all the more important. They will be relied upon to be involved at some level in solving nearly every new business challenge that legal teams face. They will build a future of law that is imagined collaboratively with colleagues from across the organization, including those with a legal background and those with expertise in other areas.
Benefits of legal engineers for law firms
Attract top clients: GCs need help managing their workload against limited resources and see technology as an answer. Firms that can offer innovative, cost-conscious, digital solutions are becoming increasingly attractive to top corporate clients.
Better engage and retain existing clients: Digital solutions are always-on, available to clients on-demand 24/7. This type of service delivery isn't just convenient, it becomes an essential, embedded part of how a business operates. Businesses become more dependent on a firm's digital offering, engage with it more regularly, and are therefore more likely to continue as a client.
Improve internal processes and realization: Firms with legal engineers are able to streamline and automate non-billable work, allowing lawyers to focus on high-value work and increasing the firm's overall realization rate.
Happier lawyers: No one goes to law school to copy and paste data from one document into another database. When tedious processes are automated, lawyers can put their focus on the fulfilling, interesting, and high-value work that drives them.
Benefits of legal engineers for corporate legal and compliance departments
Improved efficiency: Solutions built by legal engineers can save companies a massive amount of time, reduce errors common in manual processes, and streamline lengthy processes into just a few days. For example, see how TD SYNNEX saved 95% of the time previously spent on manual work.
Cost savings: Digital legal solutions don't just help ensure expensive headcount is best being used, but they can also enable more efficient collaboration with outside counsel, minimizing the hours billed to the company. As an example, GEA was able to reduce external counsel spend by 99% using an application engineered by their legal team. The reduction of errors and improved compliance processes also help companies avoid costly fines for non-compliance.
A better reputation for legal internally: Digital legal solutions help legal teams operate more in line with business priorities, and serve their internal clients more quickly and conveniently. This elevated level of service can transform the legal team's reputation from bottleneck to business enabler. A better reputation means more engagement with the legal department, better alignment with business priorities, and therefore reduced legal risk for all involved.
Happier legal teams and improved retention: In-house counsel gets to spend more time working on the fulfilling, interesting work they were trained for, rather than tedious administrative work or managing repetitive requests from the business.
Examples of legal engineering
Legal engineers' work is already used on a daily basis by law firms and corporations around the globe. Check out the examples below of real solutions built using BRYTER's no-code legal engineering platform.
Examples from law firms: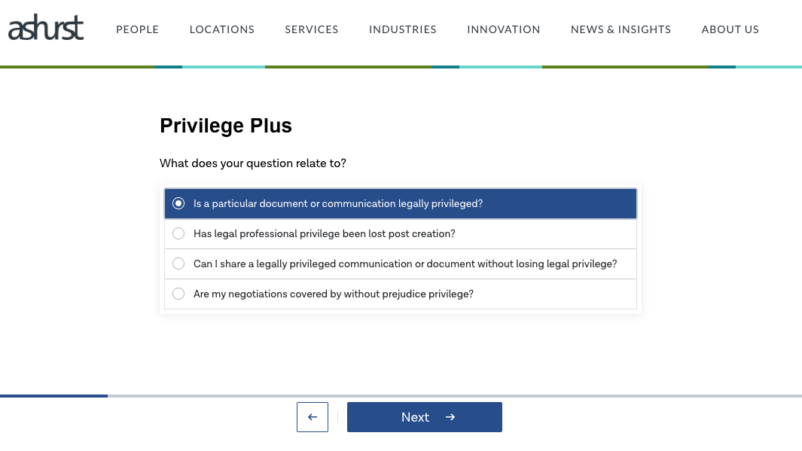 Examples from corporates:
No-code legal engineering
Legal engineers often use no-code development platforms like BRYTER to quickly and efficiently build solutions. In fact, all of the examples highlighted above were created with BRYTER.
No-code platforms are powerful and flexible, but also reliable and straightforward. The backend consists of logical building blocks that form a decision tree, which can be understood by subject matter experts and developers alike.
The benefits of no-code for legal engineers include:
A faster way to build and publish applications. Rather than building from scratch, developers benefit from pre-built logic and front-ends that generate automatically once back-end logic is built.
Shorter time-to-value. Applications can be designed, built, and published in a matter of days, not months, ensuring a much faster ROI.
Better collaboration with subject matter experts. A visual development environment means domain experts can understand and help design the logic of an application.
Reduced costs of building. No-code platforms are less resource-intensive, so solutions can be built and deployed at a fraction of the cost compared to traditional software development.
Enterprise-ready architecture. Quality no-code platforms have built-in enterprise-level security, pre-configured integrations with other software, and can deploy apps into any digital environment, including mobile devices, with the click of a button.
Put plainly, no-code is the fastest, most reliable, and most efficient way to build and publish legal applications. Legal engineers use no-code platforms to work with lawyers on the content and logic level, and when needed, IT and developers on a technical level. Having a single, centralized environment that can be used and understood by domain experts and developers alike is a game changer in legal software development.
How to become a legal engineer
If you're a tech-savvy lawyer who is passionate about technology and improving the efficiency of the legal practice, legal engineering might be a great fit for you. Or maybe you're a developer who's interested in collaborating with legal experts to solve some of the business world's biggest challenges with technology. Either way, the best way to explore legal engineering is by trying it yourself.
If you want a taste of legal engineering, BRYTER's intuitive no-code legal application-building platform is available for a free trial.
When you're ready to get more comprehensive training in legal engineering, register for BRYTER Academy, our online certification program.
FAQs about legal engineers
What is legal engineering?
The practice of developing digital tools and processes that improve the way legal services are delivered. Legal engineering is used to optimize workflows, increase overall efficiency, and turn legal expertise into digital products.
Why is legal engineering important?
Legal teams are dealing with their highest-ever volume of requests, while headcount remains static. The industry is turning to digital solutions built by legal engineers to accommodate this shift and allow legal teams to remain strategic partners while servicing a high volume of day-to-day business requests.
What is a legal engineer?
A legal engineer's job is to understand the needs of a client, then design and build an effective digital solution. They are responsible for digitizing legal know-how and improving the way legal services are delivered.
Are legal engineers lawyers?
While legal training is highly valuable in legal engineering, you don't always need to be a trained lawyer to build digital legal solutions. Some legal engineers are developers first, who learned the basics of how law works from extensive collaboration with subject matter experts.
What do legal engineers build?
Legal engineers build all kinds of applications to improve the way legal services are delivered. Some common examples are tools for document automation, dashboards for tracking cases, and self-service tools to provide legal advice around recurring issues. For more examples, check out our use cases.
Do legal engineers need to know how to code?
Not necessarily, though most do develop some knowledge of coding. No-code platforms allow users to build applications without extensive programming knowledge, instead using a visual decision-tree-like development environment. This can then be supplemented with additional advanced learning when it comes to databases, integrations, and software injections.
What software do legal engineers use?
BRYTER is the leading no-code development platform built specifically for legal and compliance. It includes built-in integrations for other software commonly used by legal teams and their businesses, including Microsoft Office, Teams, Sharepoint, Salesforce, DocuSign, and more.
It's time to embrace law's digital future
The legal industry is changing, and legal engineers are leading the way, building innovative solutions that save time, increase efficiency and make lawyers and their clients happier.
No-code platforms like BRYTER are making legal engineering more feasible and effective than ever before, and top firms are already taking advantage and building out a digital service offering for clients.
To experience BRYTER for yourself, book a demo with us, check out our certification program BRYTER Academy!